Welcome to the the ISQOLS Research Database! This database is a collection of articles, links, and papers submitted by the ISQOLS community.
We invite you to submit any documents related to quality-of-life, happiness, and wellbeing studies and research to our ISQOLS Research Database, including papers, articles, web links, or powerpoint presentations. The Research Database accepts most formats (e.g., e.g. pdf, docx, doc, rtf)  up to 128MB. All submissions are first reviewed and then posted to the database. (ISQOLS does not endorse any projects and the information is generated by the p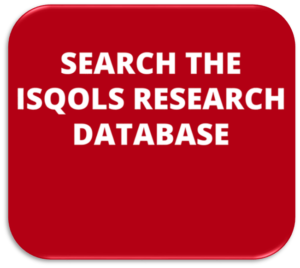 rojects.)
Once finished submitting your document, visit https://isqols.dreamhosters.com/research-database to return to the database to search other items.
If you have any questions, please contact us at office@isqols.dreamhosters.com .